Silencing Whoopi:
A Kinder, Gentler, "Humaner" Use for Duct Tape !
Whoopi Goldberg failed the ain't-it-awful litmus test. Naughty, naughty, Whoopi.
Now, Lewis Black fans are already well aware of the critical role duct tape plays in homeland security and disaster preparedness. But Black's riff on the crucial function of duct tape? Sadly premature.
Man, if he only knew then what we all know now: Damn the torpedoes, somebody's got to shut Whoopi the hell up!
Did Whoopi have a bad first day at her new job?
Or were we played?
Calculated media strategy or not, Whoopi's talk show debut turned into a circus that won't be forgotten anytime soon. It all focused on her failure to toe the party line on the subject of Michael Vick.
Whoopi didn't join hands and sing along with the carefully orchestrated chorus in a round of "Neuter Michael Vick." Nope. She had the temerity to express a different thought on a controversial, painful, subject. She said:
THERE'S ALL OF THESE VERY VERY STRONG OPINIONS ABOUT [Michal Vick]. AND ONE OF THE THINGS I HAVEN'T HEARD ANYBODY SAY IS, YOU KNOW, FROM HIS BACKGROUND, THIS IS NOT AN UNUSUAL THING FOR WHERE HE COMES FROM.
Negative stereotypes. Acceptable from the HSUS. Unacceptable from Whoopi.
So here's where it gets really interesting:
Whoopi was basically voicing the racist, elitist stereotyping drivel the Humane Society of the United States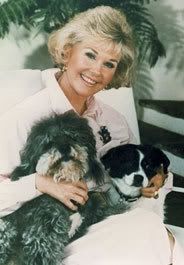 and its proxies and partners have been dishing out for years. She essentially regurgitated that "pit bulls are the breed of choice of. . ." blah-blah that HSUS has neatly packaged and pedaled all over Hollywood.
Last year Kentucky Humane red-lined by zip code the blackest, poorest sections of Louisville for special--breed specific--assistance. They wanted all those "pit bulls" residing in the "wrong" place and with the "wrong" people permanently removed from the gene pool--and they wanted it FAST.
Profiling is just fine with the "animal protection" crowd. As long as they are the ones doing it.
Wayne Pacelle protests wa-a-ay too much. Somebody pass the duct tape!
HSUS's Wayne Pacelle, president of the largest, wealthiest "animal protection organization" in the world--one that consistently stereotypes pit bull owners as "criminals, gangbangers and drugdealers"--sez profiling certain people as insensitive to dog-fighting is--gasp--just plain wrong:
To suggest that there is some ethnic group or racial group or regional group that finds this acceptable is just not accurate"
Wayne, where were ya when Peter Vallone Jr. tried to legislate pit bulls out of the City of New York by painting pictures of pit bulls as "the weapon of choice of drug dealers and gangs seeking to intimidate and terrorize neighborhoods"?
Huh? Where were you when we needed you?
The Cheese Stands Alone
In his blog, Wayne claimed he likes Whoopi, but writes--
I fear that she has contracted some form of spongiform encephalopathy and her brain has been
partially eaten away by a prion.
I got news for ya, Wayne. Spongiform encephalopathy is contagious.
And so is Geraldo Rivera-style hypocrisy, apparently.
A vegan diet won't protect you from either disease.
You better get yourself checked out. You need help.